The chicken or the egg argument as it relates to purchasing the Synthetic Groomer or the LitterKat Turf Debris Collector or Both?
If we can save you thousands of dollars and provide your facility with the proper artificial turf equipment then please read further. Whenever we receive a quote request for a LitterKat we always ask this question, "Do you have a synthetic groomer already?"  We aren't asking this question to sell you more equipment but to start at square one and make sure your field is getting what it needs and that means the proper equipment.
Why Proper Maintenance Equipment is Necessary for Synthetic Turf Fields
The requirement needs for synthetic turf field maintenance is a relatively new concept for all those involved.  Learning how to properly maintain your new turf field is a learning curve with very little information for the operators and maintenance professionals who will be maintaining the turf.
Why American Made Equipment (GreensGroomer) is The Best
Let's start at the beginning, you want maintenance equipment that is built in the USA.  The reason is simple, equipment will break and when it does break you want parts that are available.  You're spending a million bucks on your artificial turf project so shouldn't you maintain it? We have heard countless stories of facilities that have equipment that is broken and getting replacement parts is next to impossible.  Guess what? Sports Turf Northwest has all the available replacement parts available and GreensGroomer Worldwide the manufacturer, supports every product manufactured.
A 926 Integrated Synthetic Groomer is going to be the piece of equipment that does 80% of the maintenance on your turf.  The inclusion of the Spring Tine Rake is probably the most important piece of equipment a field can have.  Think of a golf course and a sand bunker.  Infill material is just like a sand bunker.  When the infill material is compacted from overuse by athletes, the field it becomes concrete-like.  Athletes landing on a compacted field will feel like they are landing on concrete. When the weather turns bad and starts raining a concrete-like surface will not drain properly.  The drainage system under the artificial turf is there to help drainage.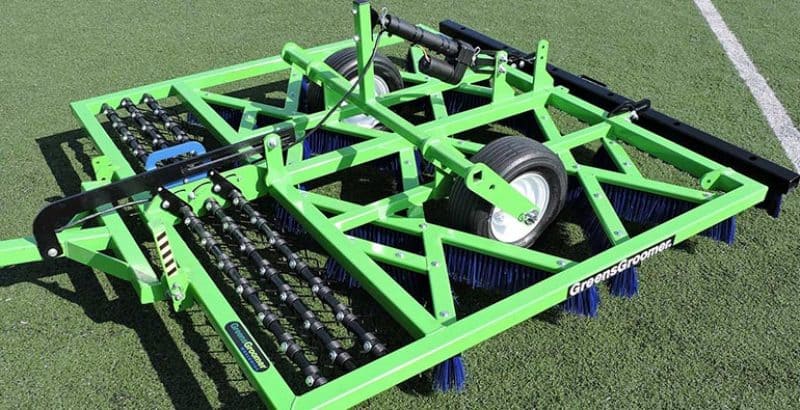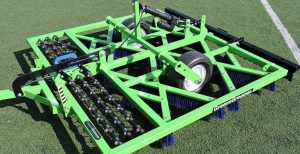 What a groomer does not do for artificial turf fields is pick up debris such as leaves, sticks, sunflower seeds, etc.  The first piece of maintenance equipment a field should have is a synthetic groomer, it's doing 80% of the maintenance.  You can operate the groomer daily if you choose, and you should utilize the Spring Tine Rake as needed.
The 926 Integrated Groomer Before the 760 LitterKat Turf Sweeper? YES
The 760 LitterKat Turf Debris Collector.  Absolutely the number one piece of equipment in the industry for debris collection.  What the 760 LitterKat does not do is groom your turf's surface (move the infill around).  Yes, the LitterKat will skim the top surface, pick up the infill material and debris and redistribute clean infill material.  You can operate the LitterKat daily if you choose. The LitterKat is ground-driven so the brush action is not abrasive and won't rip out your turf.
Providing Zero Maintenance is Not An Option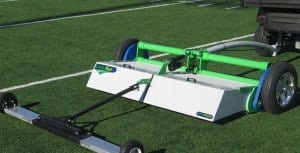 So the worst thing you can do for your turf field is no maintenance at all. Failure to provide proper maintenance will result in your field failing prematurely.  Depending on your budget, you will want to purchase the 926 Integrated Synthetic Groomer first and then you will add the 760 LitterKat Turf Sweeper to your arsenal of equipment.  Sports Turf Northwest is available to answer any and all questions you might have.  If you have questions about other equipment you are thinking about buying (even our competitors) we are happy to give you a fair and honest opinion.
LitterKat Synthetic Turf Debris Collector versus the Field Crewzer by Pioneer Athletics
LitterKat comparison to the Parker Sweeper
Sports Turf Northwest is only concerned with helping you maintain your turf at the highest level.