One of the most basic yet important maintenance requirements for your synthetic turf is removing unwanted debris. The 760 LitterKat Synthetic Sports Turf Debris Collector with Magnet accomplishes this needed maintenance procedure. Often times athletes bring all sorts of unwanted debris material onto the field. In addition to the athletes' actions, additional debris such as tree droppings and dog deposits are often found on the turf. The 760 LitterKat will not pick up unwanted dog piles but will pick up the sticks a dog might leave behind.
Commercial Grade Maintenance Equipment Is The Key
The 760 LitterKat Synthetic Turf Sweeper is a compact commercial-grade sweeper. One of the LitterKats' functions is to remove debris such as shoe spikes, small rocks, pens, pencils, bird feathers, and athletic tape. The list of unwanted debris is large and all unwanted debris poses harm to athletes. Removing debris from the field is important. Also important is understanding how the LitterKat removes debris without damaging the turf. The 760 LitterKat synthetic turf sweeper operates without churning up the infill material. The patented design of the LitterKat provides protection to the turf by not ripping or tearing the surface. The LitterKat is a split axle unit and as a result, can make tight turns without dragging the wheels.  As a result of the non-abrasive action, the LitterKat can be used daily if needed.
Is The 760 LitterKat a Sweeper or Debris Collector?
The synthetic or artificial turf industry has its own language.  The Synonym of synthetic is artificial. The 760 LitterKat has the capability to operate as both a sweeper and debris collector. In order to collect, you must first sweep. Most noteworthy is the fact that the 760 LitterKat is the #1 Industry leading sweeper/collector on the market.  American Made and designed for commercial use, the 760 LitterKat will perform proper maintenance on your synthetic/artificial turf field.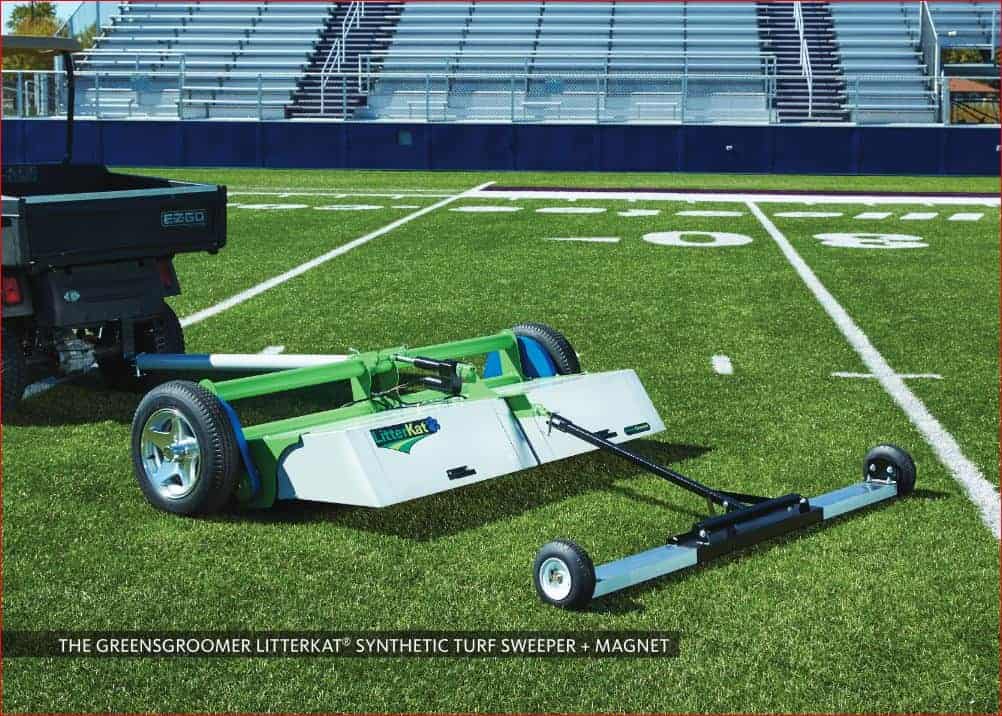 760 LitterKat Synthetic Sports Turf Debris Collector
The 760 LitterKat synthetic turf sweeper is a lightweight, aluminum machine. In addition, the unit comes with a durable powder coating to prevent rust. Almost any gas-powered utility vehicle can tow the LitterKat. During operation of the LitterKat Turf Debris Collector, the unit moves over the turf surface and the ground driven brushes skim the top layer of the infill. The infill material along with debris is deposited in the two removable hoppers. The twin 12-volt vibrators, act as a sorter of the debris and redistributes the clean infill material. The unwanted debris is held in the hopper baskets. A 6-foot magnet is always included with the LitterKat and will remove all ferrous metals.
760 LitterKat Synthetic Sports Turf Debris Collector Specifications
Model
760
Frame Width
73" All aluminum construction; 91" with wheels
Drive Mechanism
Direct drive gear with rigid gear guards
Draw Bar
56" x 3" diameter aluminum with an adjustable hitch
Length
36 inches (72 inches overall including the draw-bar)
Height
20.5 inches
Overall Depth
42 inches
Basket
31"L x 35.5"W x 9" D perforated and removable
Wheels
4 Bolt 4.80 x 12 pneumatic with bearings
Finish
Powder coat with 6-step pre-wash including degreaser and anti-rust coating
Electric
(12v) Linear actuators for lifting baskets
(12v) Vibrators (1 per basket)
Brush
33"L x 10" diameter continuous nylon bristle
Weight
301.5 lbs.
Shipping Crate
93 x 48 x 28 (LitterKat)
82 x 28 x 14 (Magnet)
Crated Weight
490 lbs. (LitterKat)
170 lbs. (Magnet)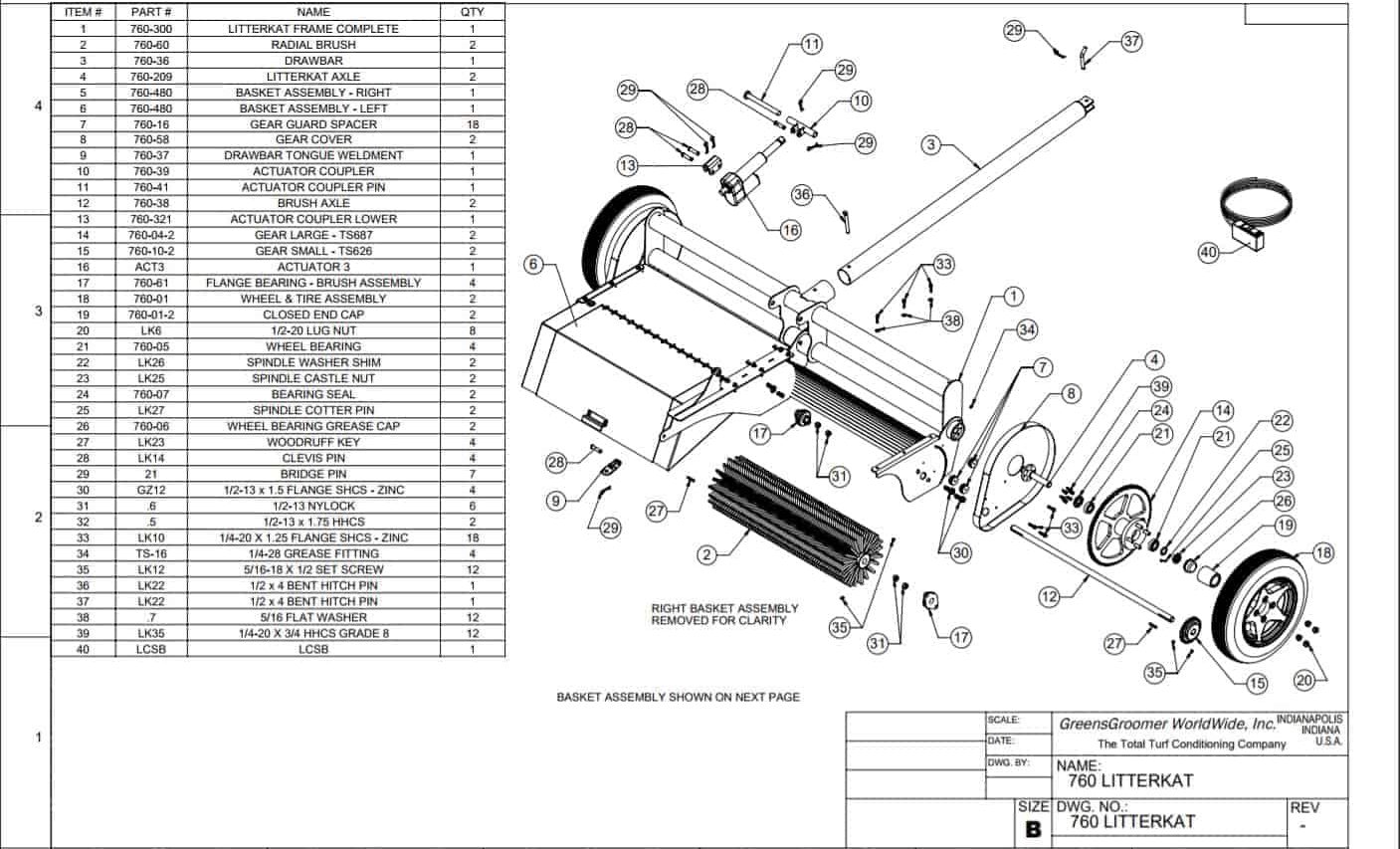 The 760 LitterKat Synthetic Turf Sweeper Additional Information
What Comes First? Synthetic Groomer or LitterKat Turf Debris Collector
LitterKat Synthetic Turf Debris Collector versus the Field Crewzer by Pioneer Athletics
Removes Surface Debris

Redistributes Infill

Aluminum construction

12V Linear Actuators

2-12V Basket Vibrators (One per hopper)

Includes a 6-foot Magnet for Picking up Ferrous Objects