Sports Turf Northwest is your #1 One Source of

Made In America

GreensGroomer Worldwide artificial turf maintenance equipment. Another important piece of information is our CAGE CODE#76XR9 signifying us as a Government Vendor. Two of the most popular pieces of equipment include the 926 Integrated Synthetic Sports Turf Groomer and the 760 LitterKat Synthetic Sports Turf Debris Collector with Sports Field Magnet.
GreensGroomer Worldwide was founded over two decades ago by Mike Davis.  Over time Mike has garnered a reputation as having the best Artificial Turf Equipment and Golf Course Maintenance Equipment on the market. Quality, quality, quality is what GreensGroomer stands for. Sports Turf Northwest chose to be a GreensGroomer Authorized Dealer because of this quality.  We don't sell other equipment, just GreensGroomer.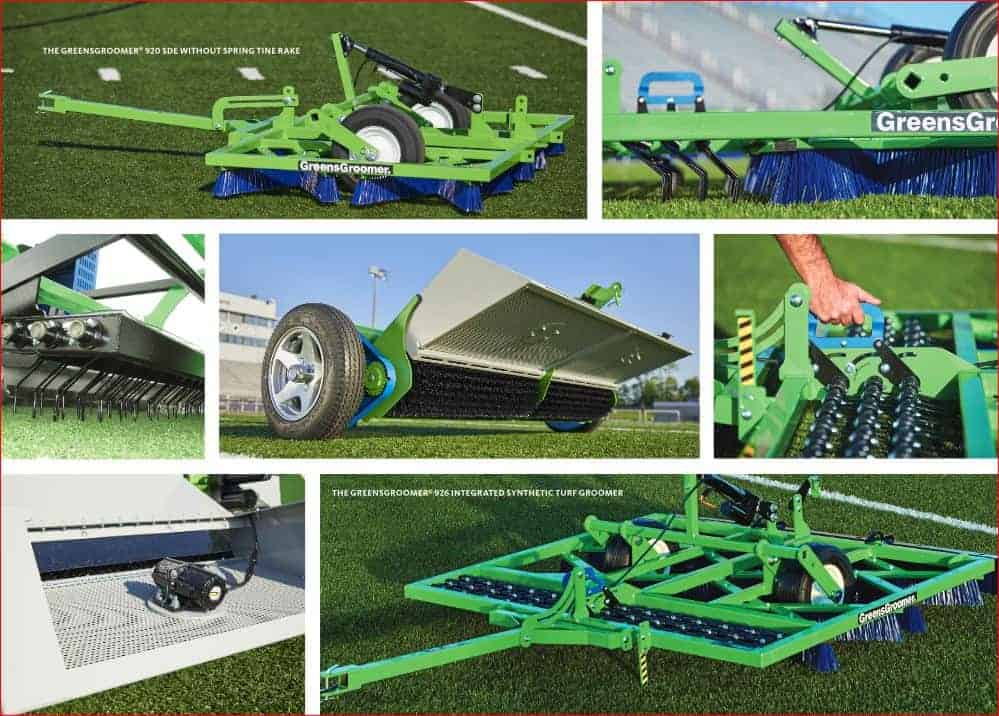 Shipping Costs For All GreensGroomer Dealers Are The Same
School Districts, you know you need to get a minimum of three competitive bids before you can purchase artificial turf equipment. Did you know that all equipment ships from the manufacturer in Indianapolis?  Do you realize a quote from any authorized GreensGroomer Dealer should have the same shipping cost as any other dealer? Even though you might see a GreensGroomer Dealer in your state, perhaps the same city, that has no bearing on shipping costs and you will not save money. Sports Turf Northwest does not add additional charges for shipping so you know you will be getting the lowest shipping cost estimate available.
Procurement or Buying Co-ops Are Bad Financial Decisions
School Districts, do not buy artificial turf maintenance equipment through a procurement or buying co-op.  This method of equipment sourcing saves no money and actually costs the taxpayers in your district more money.  This style of purchasing is a rigged system. If your buying toilet paper, by all means, use a buying co-op because volume purchasing provides price breaks.  I don't understand how a school could be so lazy in accepting pricing for equipment via a buying co-op. How is a supplier going to set shipping costs when gas prices are in constant flux. Sports Turf Northwest is about open and honest purchasing competition.  There have been multiple times now that a coop purchase was used and the price paid by the school district was thousands of dollars more than what we quoted.
UVC is a method of using light to disinfect a surface.  There is no denying that artificial turf fields contain bodily fluids.  There is also no denying that all it takes is a cut or abrasion of the skin for the beginning of a Staph or MRSA infection.  Artificial turf manufacturers do not want to let the public know the dangers of Staph and MRSA. You could use chemicals to disinfect but do you really think that is prudent?  Every artificial turf field should have in place a system to protect athletes who use the field. Pay now or pay later via a lawsuit because this is what our country has become, a society of litigious zealots. The blog contains many articles addressing the issue of Staph and MRSA infections.
A Small Sampling of Our Customers